If you're a startup, small business, remote team, or even an enterprise looking for a private coworking space,Venture X Atlanta-Buckhead offers truly turnkey private offices, dedicated and shared desks, virtual, and community memberships. Besides simply having a discrete space carved out for your everyday work, establishing a verifiable class A business address can be a real boost for your business, including sending a clear signal to your employees, clients, prospects, and your local community and industry peers that you are legitimate and deliberate about your industrious plans not just to stick around, but to grow.
As you must know, there are many considerations you'll need to factor into your decision-making beyond what kind of office space you might need or want in terms of size and location. In fact, it's the hidden intrinsic costs you may take for granted that deserve your careful consideration.
In many cases, the things you do take for granted turn into opportunity costs. We're talking here about some real basics that entrepreneurs like yourself may have not otherwise factored in pricing-wise, like the new equipment you might need to purchase or lease, like printers or scanners, and supplies, like printer paper, toner, toilet paper, or even water and coffee. We can, however, assure you that Venture X is the premier coworking space equipped to accommodate all your needs and offers clear and outstanding amenities, including our unique and diverse community.
Private Office Space Memberships at Venture X Cover the Basics

and

the Amenities
Look, it's not sexy stuff, but moving your team, no matter how big, into a dedicated new office or private coworking space comes with a lot of little considerations that most people just don't think about before making their choice. Beyond the immediate setup, improved access to technology, and flexibility we offer, we also provide:
Compliance with federal workplace laws: The US Department of Labor requires

certain signage

to be made available to employees of businesses of all sizes – to ensure you comply with federal regulations, you'll need to post them in accordance with the standards. As a company founded on the principle of helping people do the business of work, we've got all these standards covered.
Administrative office support: Our front desk staff is available during office hours to help with everyday questions about the office itself, including issues with your workspace or the network and Wi-Fi connectivity. They are also happy to help you set up for meetings and conferences and greet your guests and clients in a professional manner. You might not need a traditional receptionist – but you'll get much more than that with our dedicated staff.
Cleaning and maintenance: When you choose to work at a Venture X location, you won't have to worry about emptying the garbage or watching the recycling pile up. In fact, we've established and continue to follow routine and vigilant

cleaning and maintenance standards

to provide you, your team, and your clients with as safe and healthy an environment as possible.
Security: Only members receive an access card or key fob, depending on your location, which means your membership comes with built-in security. All guests and visitors must sign in with front-desk staff, and as an added feature, all private offices come with a locking door for extra privacy, and all private offices and dedicated desks also come with locking file cabinets.
Venture X membership is simple and straightforward – when we say it's a turnkey experience, we mean it. Our coworking memberships do not require long-term contracts or leases. We deliberately design and create private offices for professionals looking to work in a collaborative community but with access to an enclosed space to call their own. They are an ideal solution for growing teams in particular because they provide a sense of teamwork within the larger Venture X collaborative community. Teams can work on sensitive projects in the privacy of their enclosed spaces and take breaks in the community area. Private offices have floor-to-ceiling glass walls that face out into the community, so they feel open but are insulated for sound and visual privacy on three sides. Our offices can accommodate one to 10 team members and are accessible 24/7.
You can contact us to set up a personal tour or simply walk in anytime, and we will walk you through the space and show you the various private office and other seating options and explain their unique advantages. Once you've chosen your member level, all it takes is completing some simple forms, and you can be sitting at a desk or enjoying our lounge for networking within minutes.
Interested in obtaining more information about our coworking spaces and membership options? Contact Venture X today!
Related Articles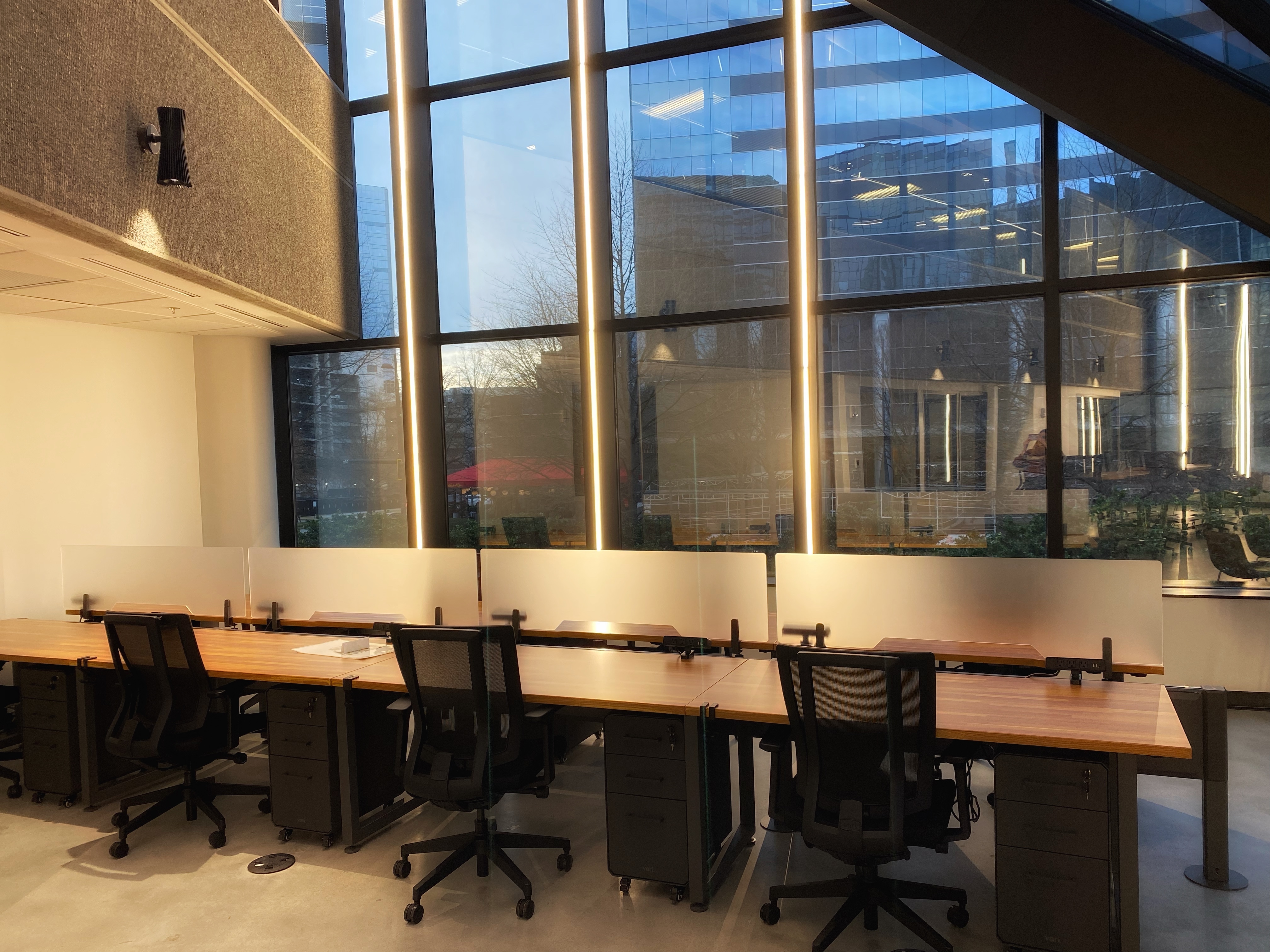 Are you an entrepreneur looking for a home base that isn't your actual home? A startup looking for a verifiable, professional Class A business address and a community...
Read More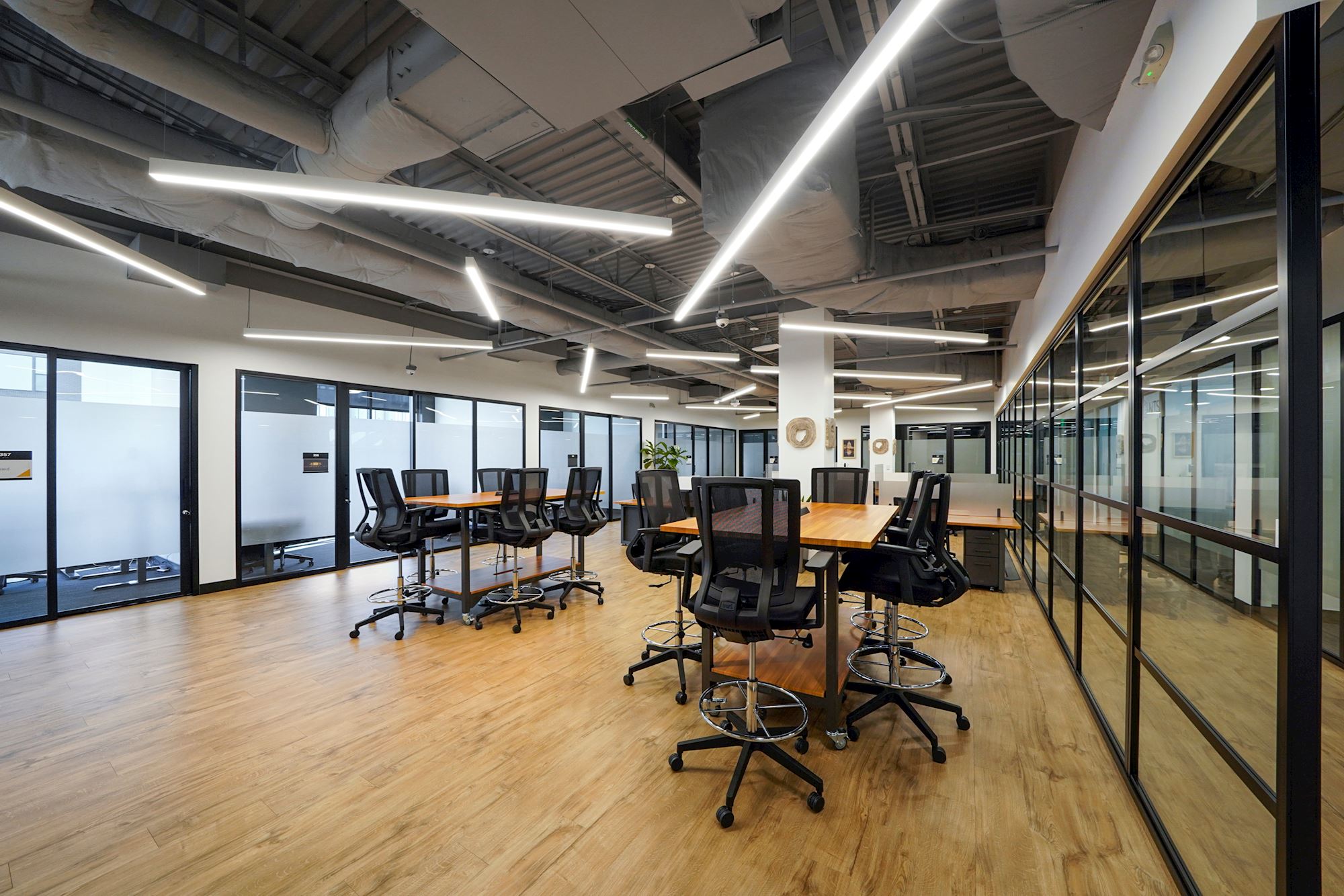 There are many benefits to collaborative working spaces, which are geared toward bringing together a diverse group of professional businesspeople in one space and...
Read More